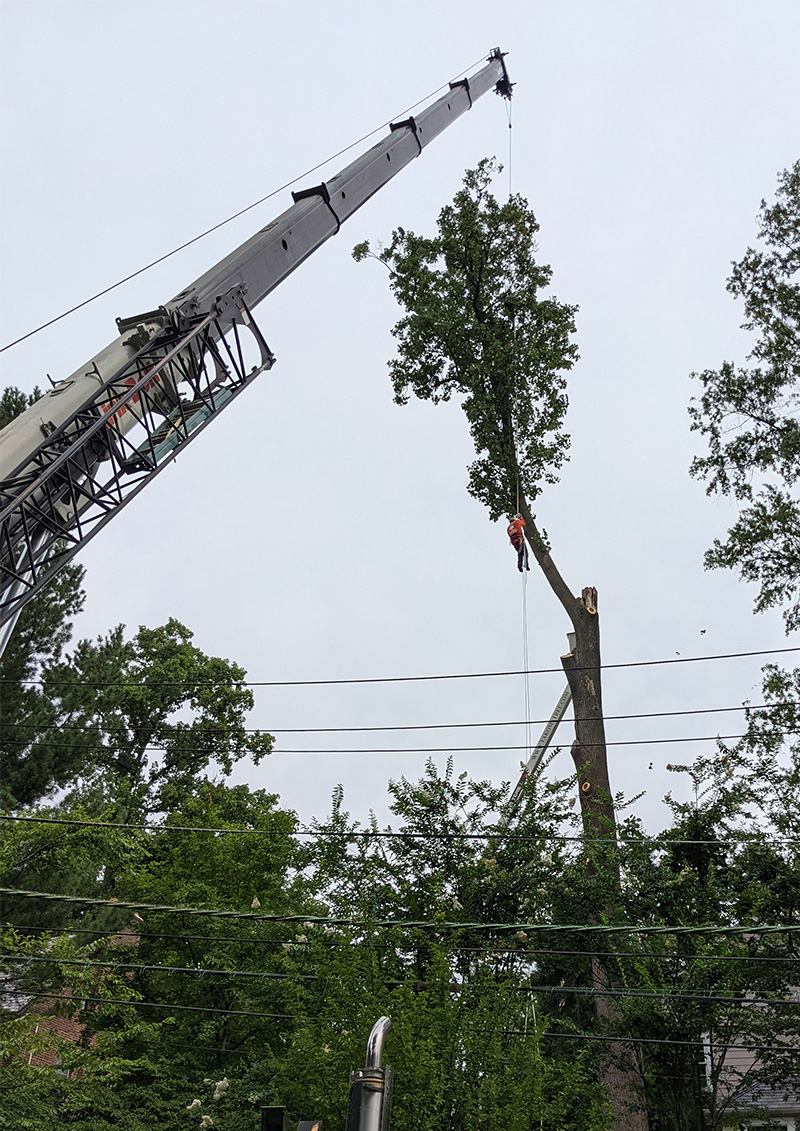 CERTIFICATIONS, LICENSES & INSURANCE
Beware of a price that seems too good to be true, companies that knock on doors for business, want to be paid cash (especially upfront), and/or who don't provide a detailed written estimate, complete with contact information, address, and other basic information. Also be very wary of those that cannot provide proof of licensing, insurance or ISA certification.
In some jurisdictions performing tree work without a license is illegal – there is good reason for this. An unlicensed tree service hasn't invested the time, effort, and dedication to learning and training in the field of arboriculture (Please note there are actually some specific cases of  Maryland Licensed Tree Experts who were given their licenses in an amnesty program in 2007, and unlike a traditional LTE didn't have to fulfill the usual exam requirements or prove competency. Although licensed and regulated, their knowledge, practices and experience are often closer to an unlicensed individuals-read more below and in our FAQ's section).  They may recommend or perform practices and procedures for your trees which may be harmful (topping for instance), or not know or care about the best times or methods to prune certain species of trees.
Unlicensed firms and individuals are more likely to be looking for a quick dollar, and oftentimes will disappear after the job (or even with a deposit), never to be seen or heard from again. They are rarely held accountable for their destructive pruning practices, as symptoms of poor pruning are not always obvious to a homeowner and may only become apparent years later-a distinct advantage to the unscrupulous tree worker. A licensed company is regulated by the state, and is required by law to have a copy of insurance on file with them at all times. There is no ongoing education requirement to renew a license.
A disturbing and little known twist on the Maryland tree expert licensing process is that some licensed "tree experts" were actually given their licenses by the state in an amnesty program during 2007 the only requirement being "proof" that they were engaged in tree removal for three years prior to the program. Tree removal operations didn't require a license up until that time-but pruning did-the license, instantly bestowed legitimacy on those folks and made them "tree experts" supposedly capable of highly skilled and proper pruning-of course homeowners were none the wiser-trusting our government to properly vet licensees.
During the amnesty program, the necessary requirements traditionally needed to become licensed- work under an LTE for 5 years and pass a rigorous exam or possess a 2 year degree in forestry or a related field with one year of experience under an LTE and pass an exam were waived; so no proof of competency or knowledge was required-scary. The result being of course that there are many individuals licensed for tree work by the state who have very little knowledge of arboriculture; this lack of oversight or requirements is virtually unheard of in any other field. Many of these folks run companies that share some very similar characteristics of unlicensed companies noted above (it makes sense of course-they would most likely still be unlicensed if the state hadn't handed them a gift wrapped license). Read more in our FAQ's section.
International Society of Arboriculture certification is another and much better guideline of professionalism, and because of the aforementioned practice of the gifting of licenses by the state of Maryland, the more reliable indicator of competency-though of course the ISA can't guarantee such-but the credential hasn't been compromised as the Maryland tree expert license has. 
An ISA certified arborist has provided proof of experience, on the job training and passed an extensive and demanding exam, testing him/her on tree biology, identification, pruning practices, pest management, diseases and conditions of trees, soils, and fertilizers, ethics, and more. ISA certification is voluntary, and as such demonstrates ones dedication and commitment to professional tree care.
Government agencies, and jurisdictions which don't have a tree expert license requirement, many times rely on ISA certified arborists for their tree care needs. In addition, many homeowners are increasingly looking for ISA certified arborists, in addition to a licensed tree expert. This assures them not only of a state regulated entity but also of an industry recognized professional arborist who as a requirement to maintain his/her certification must document continuing education in the field of arboriculture, a key difference between licensure and certification. Why not look for both when shopping for a tree company?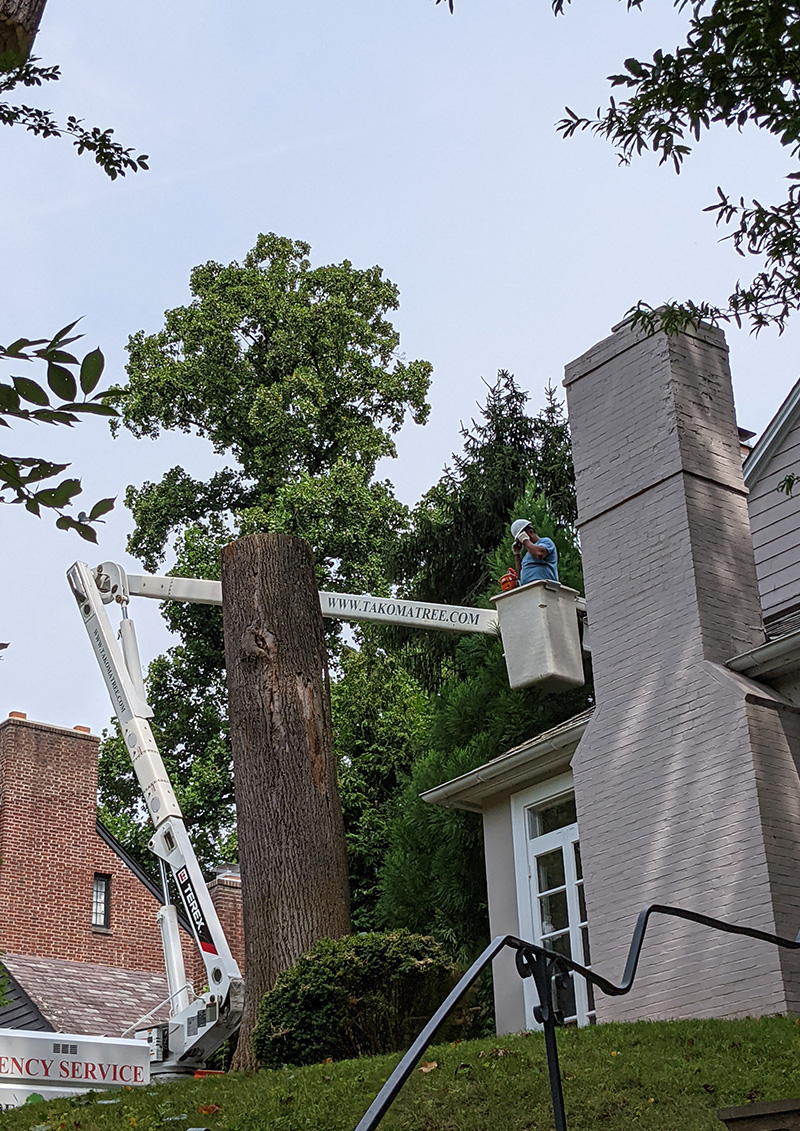 Finally, if your gardener, landscaper, painter or roofer tell you they can trim or remove your trees, and even though they might have insurance in their respective fields, remember that their insurance probably will not cover tree operations-insurance is very specific and covers only that industry for which it was designated for. Also they are not arborists. You wouldn't hire us to paint your house, likewise don't hire anybody except a licensed and ISA certified arborist to take care of your trees.
In short, even though you may save some money by hiring an unlicensed and/or uninsured company or individual-you are taking a huge risk. The money you save will be nothing compared to having your trees butchered, your property damaged, or an employee hurt on your property. We carry $2,000,000.00 of liability insurance, workmen's compensation, and are licensed in the state of Maryland, as well as ISA certified. We will be glad to provide you with certificates of insurance, and proof of licensing.
There is hardly anything in the world that some man cannot make a little worse and sell a little cheaper and the people who consider price only are this mans lawful prey.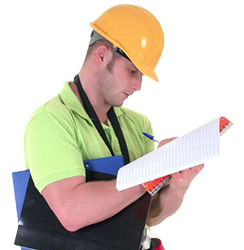 Contact us now for a free estimate.