Snow And Ice Management: Tips On How Blow Snow From Your Property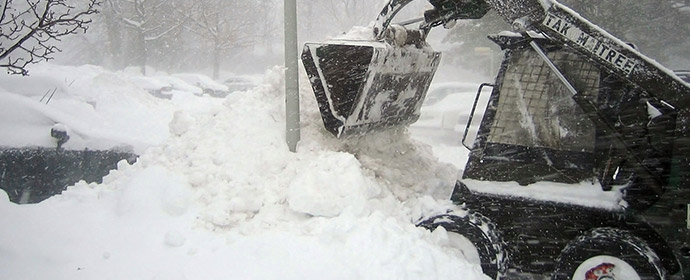 Over 6,000 snow blowing injuries are reported every year in The United States. If you intend to undertake snow removal by snow blowing, you should be very careful to avoid injuring yourself. Here are snow blowing tips that you should follow:
Don't wait for snow to get too dip
If you are expecting a huge snowfall, don't wait for it to be over then start removing snow—you should start before snow reaches 6 inches. While you will spend more time removing snow, your machine won't work too hard. It will also throw the snow farther thus reducing the height of snow banks on your driveway.
Prepare your property
Before snow starts falling, inspect your property and remove rocks, extension cords, garden hoses, holiday light cords and any other things that can obstruct your machine from working effectively.  This ensures that your machine doesn't suck up rocks and cables that can damage it.
If you have a large property, you should ask a snow removal contractor to come beforehand to prepare your property.
Plan where to pile snow
Proper snow removal isn't simply taking a snow removal machine and removing accumulated snow—you need to prepare where you will dump it. When deciding on where to pile it, consider your and your neighbor's need to see traffic at the end of the driveway. To prevent sight obstruction, divert the piles to other areas.
You should also consider the weight of the pile especially when piling on structures or plants. As rule of thumb never pile snow against a house. This is to prevent flooding when snow starts melting.
Avoid clogging the machine
When you have a large area to cover and are in a hurry, the first thing you do is increase the speed of the machine. This causes the snow machine to work too fast  resulting to clogging. The drive belts also tend to wear out too fast.
If you have a large area that you need to remove snow or you are in a hurry, you should not damage your machine in the bid of trying to complete the work fast—you should hire a commercial snow removal company to remove the snow for you.
Conclusion
Snow blowing is an effective snow removal technique. For ideal results ensure that you follow the above tips. If you don't have time to work on your property, hire snow removal services to help you out.