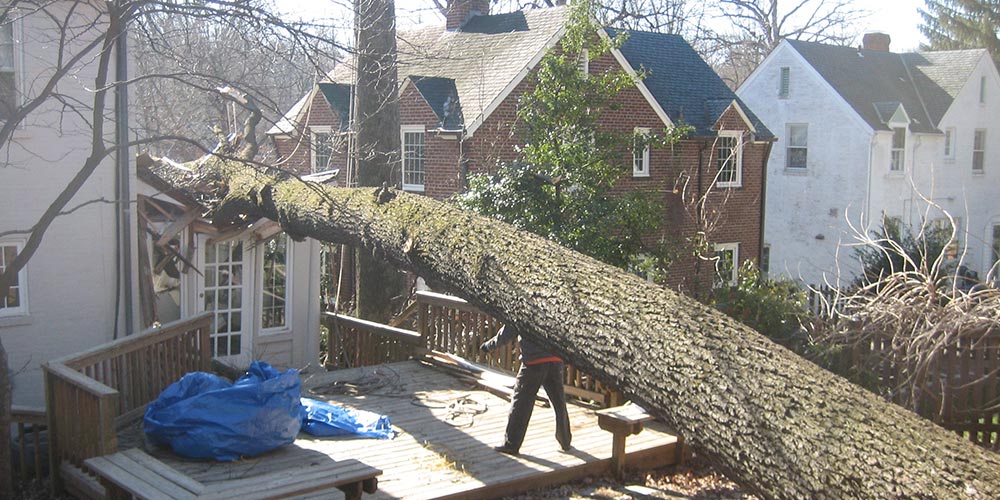 6 Signs Your Tree Is a Ticking Time Bomb
While it is difficult to get rid of a tree that you have had for years, there are occasions when you have to destroy the tree to protect your home.
In most cases, the time to remove a tree is often clear. The tree tends to be dead or dying. It can also be growing in the wrong place.
In such a situation, you only need to hire a tree services provider and remove the tree.
In other cases, it's not clear that it's time to remove a tree, and it's such situations when you should be ultra cautious. 
This is because you can ignore the removal, and the tree falls on your property, damaging and, even worse, hurting you or your family member. 
This blog post discusses 6 signs that your tree is dangerous and you should be cautious.
The tree is leaning
A leaning tree is a strong warning that it is about to fall. Find a location in your yard that gives you a clear view to determine whether your tree is leaning. If you don't remember your tree having a natural lean, a new lean could mean that it's dying, that the ground surrounding it is no longer supporting it, or the roots have been injured and can no longer hold the tree upright.
You can look out for several indicators to tell whether the tree is about to tumble over. These indicators include:
Soil that is too saturated (often after heavy rain): If you sink into the ground as you walk, the ground cannot support and stabilize trees adequately. Many trees collapse after heavy rain, and many more begin to tilt, placing them at risk of being uprooted.
Soil heaving (lifting) or cracking on one side of the tree indicates that the rootball is changing and causing the tree to become unstable.
Exposed roots (particularly if you haven't seen them previously): Whether due to erosion (like after a flood) or ground subsidence, newly exposed roots indicate that they are beginning to pull out of the ground.
Trees with several stems and long, heavy branches are likewise more likely to tumble.
A drooping tree may not constitute a problem, but you can only be sure with a professional assessment. The sooner you have your tree assessed, the better.
Remember that any tree within falling distance of homes, cars, utility lines, or walkways is considered a hazard if it is leaning due to structural weakness.
Mushrooms are growing under your tree.
Mushrooms don't appear dangerous, but to the skilled eye of an arborist, they can pose a significant threat.
A mushroom is a fungi's fruiting body. Wherever they grow, you can bet there's a network of fungal filaments (called hyphae) piercing the surrounding soil or wood.
Some mushrooms are safe and do not harm the tree in any way. Others, on the other hand, are exceedingly pathogenic. They transmit their filaments through increasing amounts of wood, avidly consuming and weakening the tree.
Have an arborist evaluate any tree where a mushroom grows to be safe. Also, you should remove mushrooms growing in the tree's root zone because some fungi feed on tree roots rather than the trunk.
Nearby trees have recently fallen.
One tree along a forest's edge would often die, followed by another a few days or months later. Trees that stay standing after an adjacent tree has fallen are dangerous for two reasons:
The soil could have vast fungal networks, diseases, or pests. This puts all other trees in the immediate vicinity (especially those of the same species) at risk.
Trees frequently protect each other from wind, and those growing within a clump of trees have grown up without having to deal with high gusts. When one of the exterior trees falls, the internal trees are exposed and in great danger of failure.
Because fallen trees might harm other trees in the area, it is best to contact an arborist if a tree falls on your property and have them find out if it's at risk of falling.
The tree has multiple trunks.
Trees with many trunks are frequently prone to splitting at the point of attachment. Multiple trunks (or co-dominant leaders, as arborists call them) are usually only weakly coupled to each other instead of proper branches, which connect solidly to the tree's trunk.
These trees can be dangerous because of the huge weight of an entire trunk and this vulnerable attachment point.
It is critical to have an arborist check such trees for two reasons:
The arborist can evaluate the tree's stability and recommend any necessary mitigation measures.

It is easy to support such trees using cables or braces, but you should do so as quickly as possible before they fall.
The roots are decaying.
Is there apparent deterioration in the roots of your tree? Decaying or rotten roots indicate the tree's structural support has been compromised.
If the roots are damaged by a lawn mower, animals, or construction, the tree's ability to receive nutrients and water may suffer. If your home or yard has recently undergone construction or landscaping, there is a potential that a tree's roots have been harmed or the earth has been disturbed, causing the tree to suffer.
During prolonged droughts, roots suffer as well. Some root parts may perish due to a lack of water.
A tree may not be able to recover from root injury and will finally die.
To protect yourself and your loved ones, remove it immediately.
There has been storm damage.
If a powerful storm recently hit your trees, they could have sustained significant damage. High winds, massive snow, or lightning can cause tree damage.
The most visible damage after a storm is from fallen trees or broken limbs, but trees without any of these symptoms might still be deadly.
Large branches that have broken off but have not yet fallen might pose a great risk. 
If a storm severely damages the tree, you may observe the trunk splitting or limbs cracking. Because the tree is unsteady, there are serious safety issues.
As a result, it is important to have your storm-damaged trees evaluated by expert arborist services Bethesda providers and recommend the best course of action.