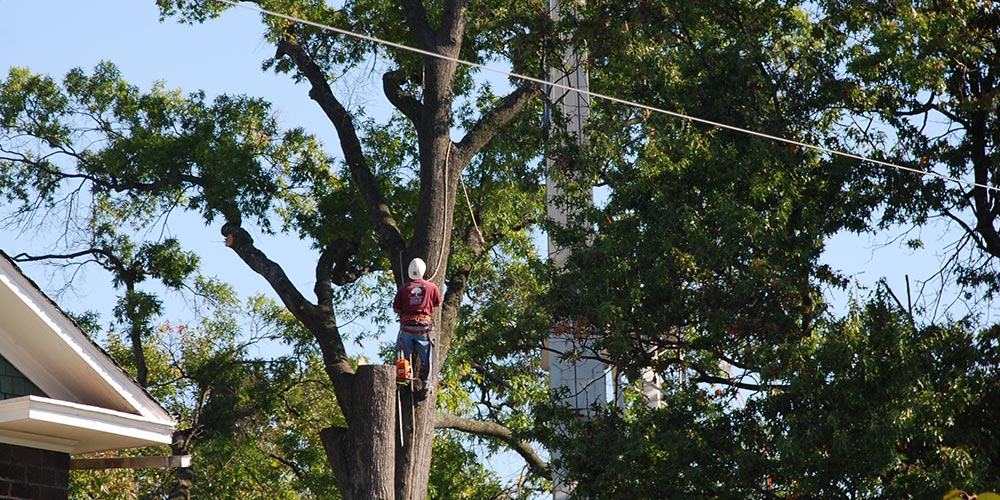 Why is Cutting Tree Roots Dangerous?
The performance of the tree root system has several important functions. For example, it is a storehouse for important food reserves to create spring foliage in the winter. In addition, roots absorb important nutrients and transport minerals and water from the soil to the different parts of the tree. They will also anchor part of the tree above ground. Therefore, it is important to maintain the excellent health portion above-ground to make sure there is enough food supply to the roots and other sections of the tree.
However, the rigorous root spreading on the ground leads to strong foundation integrity issues or walkway issues. Therefore, cutting tree roots is done. You need to hire tree removal companies for this process.
Root Functions
Roots have two main basic functions – feeding and structure. Structure roots are the ones that begin at the base, which grows under a tree canopy. While trees move outward, they become smaller and smaller in terms of diameter like the limb's structure. The job is to provide a stable foundation. The feeder roots are fibrous and small and they are supposed to feed a tree, which provides water and nutrients. Most people, when you see roots, only see the root structure, not the entire picture.
Vigor is Reduced
Cutting your tree root's system improperly disintegrates its capacity to consume nutrients and water. Therefore, losing vigor occurs if your tree is unable to consume the important nutrients. Symptoms linked to this include foliage, stunted growth, and branch dieback.
In addition, even if healthy trees gradually recover from vigor loss through proper care, the tree will be distressed by environmental conditions, or the disease might not totally recover from root pruning.
Instability
Tree root cutting that is bigger than two inches in diameter or cutting too close to the trunk will interfere with the tree's structure. Roots provide the necessary support so the tree stays standing. Without structural support, the tree will become unstable. This leads to your tree falling over in rainstorms or high winds.
Landscape and Construction Renovation
Adding to the house for out-laws? Pool installation? Landscape renovation? There are some common areas where roots have the chance to become damaged and cut. If you install an irrigation system in the yard, you can try to incur small damage by installing irrigation such as spokes on a wagon wheel.
This is the main rule – a tree is going to put out a root system that is as wide as the drip line.
Diseases and Pests
Similar to the human body, trees are distressful and they are susceptible to pest and disease attacks. A lot of fungal infections will go into the cut roots, which causes vascular issues that are hard to recover from. Stressed trees become a buffet for sucking/chewing insects like scales, bores, and beetles.
 Safe Pruning Guidelines for Roots
Root-pruning cuts have to be done from afar of about three to five times the trunk's diameter from the outside part of the trunk. For instance, if the diameter is 2 feet, the cut should be at least 6 to 10 feet coming from the trunk. If you cut the tree root closer to the trunk, the effects will be more significant to your tree. The cut should not be more than 25% of the tree root's zone. This causes severe injuries that lead to tree death. You should wait two years or more before pruning it again, which allows the tree enough time to recover.
You can contact arborist services Bethesda anytime if you want professional advice about cutting tree roots and what you should do.